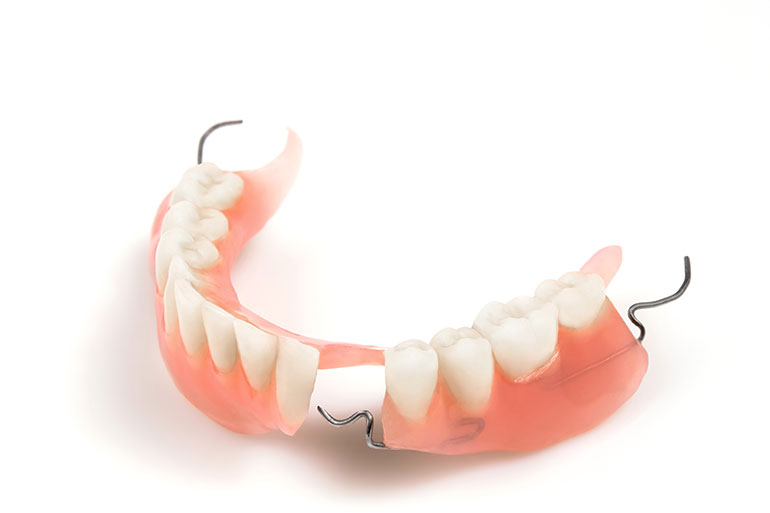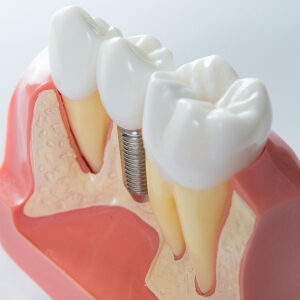 There are many reasons as to why teeth are missing.  Most commonly it is because a tooth had been previously diseased and was subsequently extracted. The desire to then replace it could be for aesthetic reasons to enhance the smile or for functional reasons to improve the chewing.
Implants: Implant technology is one of the greatest revolutions of the dental profession in the last twenty years. The process involves placing a titanium fixture (much like a very specialised screw) directly into the jawbone where the tooth or teeth are missing. Once healed and integrated, the titanium implant can then act as the foundation to support a crown. The crown is custom fabricated to connect precisely with the implant to replace what was previously missing. When done correctly in areas of adequate bone, an implant supported crown provides a very stable predictable long term solution which will provide many years of function.
Bridges: The traditional way of replacing missing teeth involved using the existing natural teeth on either side of the gap or space to support the prosthetic teeth or bridge. The bridge is a permanent fixture which replaces the missing tooth and also prevents the adjacent teeth from drifting into the open space. Providing the supporting teeth have adequate foundation and strength they are prepared by the dentist to receive the bridge which is fabricated in a dental laboratory.
Dentures: These are prosthetic plates which can carry any number of teeth. Unlike the implant crowns and bridges, dentures are removable and can be taken out of the mouth and placed back in at will. The base or frame of the denture can be made from a strong light metal or an acrylic plastic. There are many design options but usually small clasp arms (clips) stabilise the dentures in place on the remaining natural teeth. Dentures can often be used as a simple cost effective means of replacing teeth.
Replacing A Missing Tooth
Replacing a single missing tooth with a dental implant is a conservative treatment. A single implant is very similar to your own natural tooth root, which means it is not necessary to drill adjacent teeth to create a bridgework support as would be traditionally done. If you feel that your smile is unaffected by the tooth loss, the reasons for filling a gap go beyond cosmetic ones. A missing tooth left untreated can have negative effects on your dental health over time and a replacement may become more challenging. A missing tooth can have a measurable impact on your life. Whether you start feeling self-conscious about your teeth and start to miss your favorite foods which become uncomfortable to eat, or you begin experiencing physical effects like muscle strains and headaches, it can be surprising how big a different missing one small tooth can make.
The loss of a tooth could be caused by many different reasons: tooth decay, infection, gum disease, trauma, or removal of an impacted tooth. A single dental implant is the most functional secure replacement for a missing tooth, allowing you to eat, smile and laugh with confidence. A single titanium implant is placed into the jaw, which functions as the replacement root. It's a straightforward process which can be completed under local anesthetic. The implant will need three months to heal and integrate with your jaw bone to provide a solid support for your replacement tooth.
A temporary crown is usually fitted at the same time as your implant placement, which will stay in place until the final restoration appointment. Once your implant has integrated, an abutment will be fixed to the implant to hold your replacement tooth (crown) in place. Abutments are produced in titanium, gold or porcelain, and can come as a standard fit or custom fabricated specifically for your case. These options offer a range of outstanding esthetic results, depending on your requirements. A crown is then fitted on top, to replace your missing tooth.